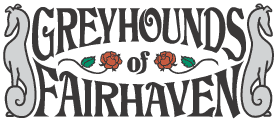 Home | About | Upcoming Events | Join Us | Contact
Photo Gallery | In Memory | Adoption Links

PHOTO GALLERY: The Events
The People | The Hounds | The Events
The fewterers of the Greyhounds of Fairhaven had a wonderful opportunity to assist the falconers of Falcons' Court with their shows. It was so truly unbelievable that we had to post the pictures just to remind ourselves that it wasn't a dream.
| | |
| --- | --- |
| Lord Robert, Lady Ivgrane, and an unnamed falcon prepare for a show | Lord Robert, Mistress Annabel, and Rowan the falcon |
| Mistress Mikaela, Lady Margaret the Harris Hawk, and Lord Robert | Mistress Annabel, Mistress Mikaela, Lady Ivgrane, and friends before a show |
Home | About | Upcoming Events | Join Us | Contact
Photo Gallery | In Memory | Adoption Links
---
All material contained herein copyright © 2001-2017 Mik Wilkens Design Inc.
Web Site hosted by Digital Mayhem.